Discovering the Farm Cultural Park in Favara, Sicily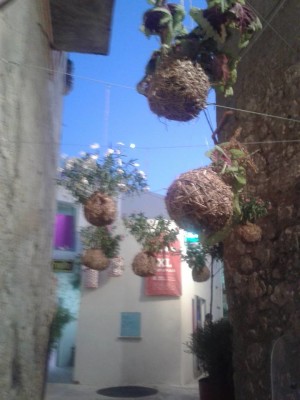 On Sunday 31st August 2014, Cristina Lazzaro, Fabio Lazzara and Alfonso Gianluca Gucciardo, on behalf of the CEIMArs, were guests of dr Antonio Liotta MD, in order to have a terrific guided official visit to the FARM CULTURAL PARK in Favara, very famous Town near to Agrigento.
The Farm Cultural Park is a very huge space for the independent visual (and fine) arts. Founded by dr Sajeva and dr Bartoli, it is a venue for continous expositions of new artists in seven courtyards which shape the Cortile "Bentivegna". Very wonderful little houses covered in white lime; little spaces of new ideas, a garden with a big cuisine for creative visitors, an ecosostenible tailor's shop, and many other (colored) doors open on the beauty.
The idea is immersive and the answer of the environment enthusiastic. Wikipedia says: Purple Travel nominates the Farm Cultural Park of Favara at the sixth place of the contemporary art world touristic venue after Florence, Paris, Bilbao, the Greek Islands and New York.
The visit ended with a short but fruitful meeting with dr Liotta and some men and women of the sicilian intelligentsia, in order to… think to the next future of Performing Arts Medicine. Soon, many surprises. Now, Top Secret.